The Best Mesh Routers To Use In 2022 
When compared to conventional routers, mesh routers have more features and more power to fulfill users' internet needs. The best mesh Wi-Fi routers are the ideal option for large areas and spotty networks. Nowadays, where busy multi-device networks are the new standard, even in typical homes, a regular router might not be enough. So it makes perfect sense to transition to a mesh Wi-Fi setup. Making sure that every area of your home or workplace has a strong, uninterrupted network would also be made possible by using one of the best mesh routers.
Even the best routers cannot achieve that function without the use of a range extender. Basically, mesh routers perform better than conventional routers. However, there are already several mesh routers available on the market. Which one should you choose? What are some of the top brands available for you to choose from? The top mesh routers available today are discussed in this article, along with the reasons why they are regarded as the best mesh routers. These recommendations would help inform your choice of mesh router to opt for. Let's check them out!
What do you need to consider when choosing a mesh router?
There are a few crucial considerations to make when choosing the best mesh Wi-Fi router for you, the most crucial of which are the size of the region that the router will cover, the required speed, and the number of devices that will frequently connect to the network. 
Here are some of the things you need to consider:
Coverage: A typical router will not be adequate for your needs if your home is greater than 3,000 square feet. Even though it could seem like one of the greatest Wi-Fi routers could serve your home well, there are a lot of barriers and signal-disturbing elements that can make it challenging to attain excellent wireless coverage across your entire house. 
Ports: Even if enhanced wireless connectivity is the main advantage you desire from a mesh Wi-Fi system, you'll want to consider the potential of using wired connections as well. While older printers and storage can be connected to a network via USB ports, bandwidth-hungry devices like gaming consoles and smart TVs can access the internet more quickly over Ethernet. However, not all mesh systems come with physical ports, so you need to be sure the system you buy will work for your needs. 
Price: For many customers, value—or the question of which mesh system delivers the highest return on investment—becomes the deciding factor. As a result, we measure what you get for your money by determining which features are valuable and contrasting a product to others already on the market that are created by companies that are in direct competition with the company in question.
Other factors that might  help you make a concrete choice of the best mesh router to get include:   
Parental controls and safety features are pre-installed on each device. 
How efficiently does a mesh system integrate with other smart home gadgets?
Preferences—such as provision for voice integration
The design and color of a mesh router and how it matches well with your home or whatever space it's being employed at.
What are the best mesh routers in 2022?
If you are looking for one of the best mesh routers in 2022, Google's Nest WiFi is an option that comes highly recommended.  It provides Wi-Fi coverage that can grow to accommodate anything from a tiny home to a vast estate, in addition to its excellent performance, dead simple installation process, and delivery of Wi-Fi coverage.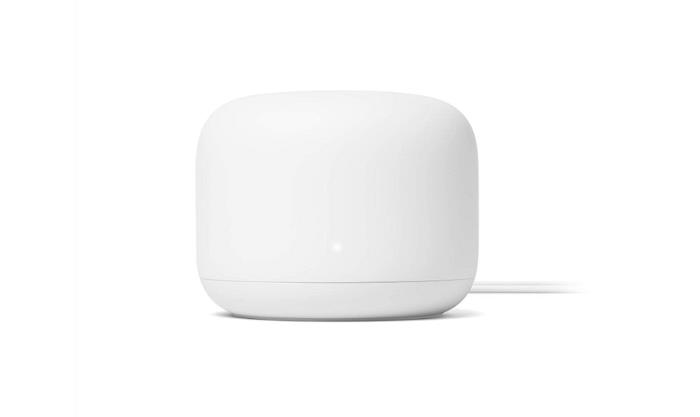 It even gets better. A Google Home smart speaker is incorporated into each mesh extension of the Google Nest WiFi system. This affords you the luxury of commanding your router and any other connected item in your home using only your voice, including your smart lights and your smart television. This is the WiFi option for your house if you're looking for an effective and user-friendly mesh network because it's very simple to install.
Specifications
Speed: 802.11a/b/g/n/ac 2.4 GHz/5 GHz simultaneous dual-band
Connectivity: Dual Gigabit Ethernet ports
Features: a Nest WiFi point with Google Assistant, a high-tech security chip, and privacy controls
Why you should get it
The inclusion of Smart speakers
Its performance is excellent
Google Assistant built-in
It's very easy to set up
Drawbacks
Its range is not as wide as other more expensive models
Limited configuration options
---
The Asus ZenWifi AX is one of the best mesh routers in 2022 because of its functions and the fact that it can make use of Wi-Fi 6. It delivers lightning-fast speeds as well as a ton of setup versatility, including the choice to set up one or two networks using the 2.4 and 5GHz bands. If you're searching for the best mesh Wi-Fi systems, this is a good option because it also has great security features. The Asus ZenWiFi AX (XT8) integrates Wi-Fi 6 mesh networking into a user-friendly package that's perfect for all types of mid-range households. It is capable of providing a medium-sized home with wireless data thanks to its tri-band design and Wi-Fi 6 capability.
There are no antennas or flashing lights on the modern-looking design. Instead, the ZenWiFi keeps things calm with a design that might serve as a bookend on a shelf and a size that makes competing mesh systems look downright large. You can expand the coverage area of your existing Asus router at home by connecting it to ZenWiFi's mesh network. This is a great way to increase coverage. It's reputed to be one of the best mesh Wi-Fi systems for gaming. Thus, if it works effectively for gaming, it would perfectly fit into your house.
Specifications
Speed: 802.11ax 4804Mbps down
Connectivity: 2.5 Gigabit Wan, 3 x Gigabit LAN, Gigabit Wan, USB 3.1Included mesh nodes: 2
Features: MU-MIMO, Traffic Analyzer, Adaptive QoS, AiProtection Pro
Why you should get it
It has great Wi-Fi performance
Impressive security features
Drawbacks
It's expensive
It restricts you to two mesh routers.
It's not as easy to set up as some other mesh routers.
---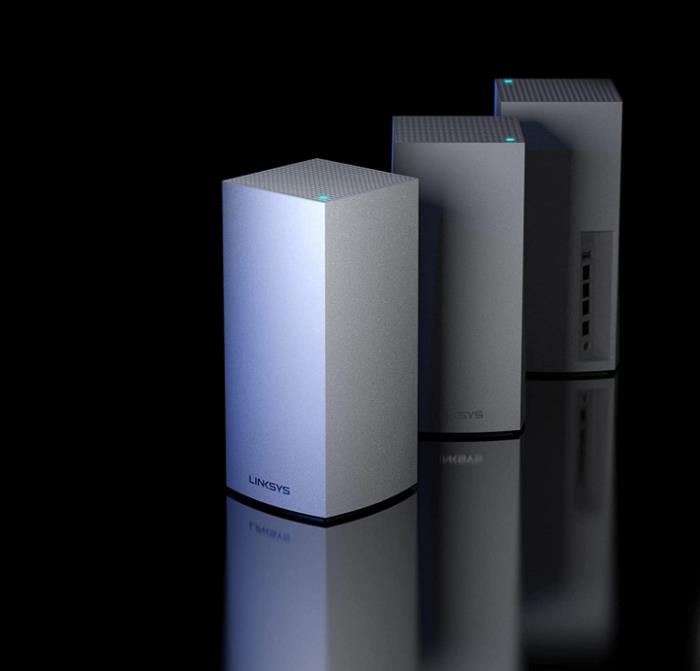 The Linksys Velop WiFi 6 AX4200 demonstrates that Wi-Fi 6 mesh networking does not have to be prohibitively expensive or inaccessible. It provides large households that are on a budget with a wonderful solution that nevertheless delivers admirable performance while maintaining its user-friendliness. Furthermore, the Linksys app is simple to operate. It covers everything, including how to connect to your existing broadband router so that you can use its Internet connection and where to install any additional nodes so that you can have the best Wi-Fi coverage possible.
This cutting-edge mesh system is the right alternative for you to implement in your home if you want to boost the speed of your home network as well as its connectivity. This is especially true if you are prepared to safeguard the longevity of your network by implementing Wi-Fi 6 technology. To crown it all, it offers connectivity through USB, which might come in handy for you.
Specifications
Speed: 802.11a/b/g/n/ac/ax 2.4 GHz/5 GHz
Connectivity: 3 x Gigabit LAN, 1 x Gigabit WAN, 1 x USB 3.0
Features: 4×4 MU-MIMO, Next-Gen OFDMA Technology, Tri-Band Dynamic Backhaul
Why you should get it
Impressive Wi-Fi 6 performance
4x Ethernet 
It comes with a USB port that enables connectivity
It is capable of covering a big residence in Wi-Fi signal and comes at a lower price point than many other Wi-Fi 6 mesh systems.
It's easy to set up
Drawbacks
It is not the quickest mesh kit on the market as it lags behind more expensive competitors
There's no provision for additional security or customization choices that you would receive from other manufacturers. 
---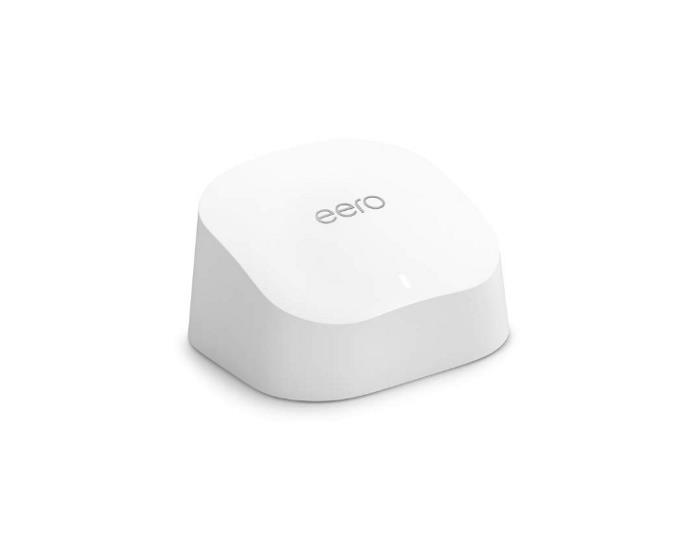 If you are looking for a mesh Wi-Fi system that provides you with a great deal of control over your network, the Eero Home Wi-Fi system could very well be the solution. It offers It gives customers complete control over their network, boasts a secure connection provided by AI, and boasts a superb performance that is worthy of power users.
It comes with many additional features. The Eero Home Wi-Fi System includes subscriptions to 1Password, MalwareBytes, and Encrypt. me VPN at no additional cost. This protects and keeps everyone who is connected to your network safe and secure. If you want the Eero home WiFi system to cover larger areas, it will interest you to know that it boosts the signal strength of its connection using its Beacon units by utilizing a third 5.8GHz band.
Specifications
Speed: 802.11a/b/g/n/ac 2.4GHz, 5.2GHz and 5.8GHz, 802.11a/b/g/n/ac 2.4GHz and 5GHz
Connectivity: 2 x Gigabit WAN/LAN
Features: Coverage of the network in modules, contemporary design, security software included, and dynamic rerouting
Why you should get it
It's powerful and effective enough
The presence of security software to protect you
Drawbacks
Its price could be a little higher than other models that offer similar functions
---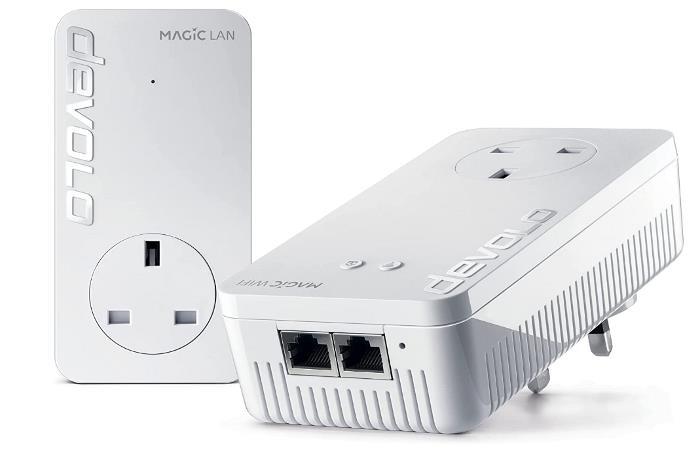 This particular mesh router makes it to this list of the best mesh routers you can get because of the sublime technology in use. Through the use of Powerline technology, the Magic 2 WiFi 6 Mesh works effectively even with the presence of thick walls and other large impediments. Its performance level is high enough that when working with an older area that ordinary mesh Wi-Fi routers cannot manage, the mesh Powerline solution enables you to have strong and uninterrupted connectivity across your space.
It's one of the best mesh Wi-Fi systems with Powerline connectivity. More so, making use of plug-in adapters and mesh technology also means that there are no dead or weak spots if you have a big house or building with plenty of rooms to cover. Its Wi-Fi rates are adequate for most everyday users and homes. Additionally, there are two Ethernet connections available for each device if you need an even stronger and faster connection.
Specifications
Speed: 802.11a/b/g/n/ac 2.4GHz, 5.2GHz and 5.8GHz, 802.11a/b/g/n/ac 2.4GHz and 5GHz
Connectivity: 2x Gigabit Ethernet, 1x mains pass-through
Features: Contemporary design with modular network coverage, security software built in, and dynamic rerouting
Why you should get it
Incorporates PowerLine and mesh Wi-Fi 
Each adaptor has two Ethernet ports 
It's very simple to set up and install
It is capable of reaching rates of up to 1800 Mbps (Wi-Fi) 
It is equipped with  50% more Wi-Fi power than any WiFi 5 PLC adapter.
With Powerline technology, your Internet signal is delivered to any room straight over the electrical wiring at speeds up to 2400 Mbps. 
Drawbacks
---
This particular model is touted by some as the best Wi-Fi 6 mesh system, and that's why it's equally recommended as one of the best mesh routers in 2022. Only the very best mesh Wi-Fi systems are capable of meeting the stringent network coverage requirements that mansions and large businesses have. This is one of the reasons why routers such as the Netgear Orbi Pro WiFi 6 exist. Even when it is set to its most fundamental setting, this is a potent piece of hardware since it provides an excellent Wi-Fi connection over a very vast area.
The Netgear Orbi WiFi 6  brings together all of the features that make Netgear's leading mesh Wi-Fi system so great, together with the forward-thinking capabilities and lightning-fast download rates of Wi-Fi 6. The Orbi model line is known for its straightforward installation process and outstanding overall performance, and the Orbi WiFi 6 model lives up to those expectations. In addition to the lightning-fast Wi-Fi, its integrated security features provide your home with an additional layer of online protection. 
Specifications
Speed: 802.11b/g/n/ac/ax 2.4GHz 2,400Mbps, 802.11a/n/ac/ax 5GHz 2,400Mbps, 802.11a/n/ac/ax 5GHz 1,200Mbps
Connectivity: 1 x Gigabit or 2.5 Gigabit Ethernet WAN or LAN port, 2 x Gigabit Ethernet LAN ports, Link Aggregation Mode4 optional; 2 x Gigabit Ethernet LAN ports included mesh nodes: up to 4
Features: Insight App, 4 SSID wireless networks, up to 4X more devices than with WiFi 5
Why you should get it
It's easy to set up
6Gbps backhaul
Protection against malware
Outstanding ability to penetrate walls and ceilings
Drawbacks 
It's very expensive
Its big size
It's overkill for most homes, except if you live in a  vast estate, a big mansion, or for large businesses.
Conclusion 
Looking at the recommendations above, it's safe to say mesh routers are a game changer when it comes to connectivity coupled with stronger and better signals. The choice of which one to get or which router would suit your pressing needs more is yours to make. The above-mentioned mesh routers are some of the best in the global market, and you can't go wrong with them. Regardless, asking questions and making inquiries when you want to get a mesh router is your responsibility, and hopefully, the features and specifications of some of the models mentioned above have helped you gain a better perspective on mesh routers.
Frequently asked questions
Is Wi-Fi in a mesh network superior to that of a regular router?
Should you get a Wi-Fi router that uses a mesh network instead? It depends on what you need your Wi-Fi devices to do for you and whether or not a mesh Wi-Fi network is better than a traditional router in that regard. For instance, If you have a large home, you might want to think about using mesh Wi-Fi instead of a traditional router because it can more effectively cover a larger area with a stable Wi-Fi signal and it is also more affordable. On the other hand, if you have a modest-sized house or apartment and a single classic router is sufficient for your needs. You might not need to opt for a mesh router. 
Mesh Wi-Fi routers are also often meant to mix in with home decor; but, if you are someone who doesn't enjoy the duty of dealing with one router, you may not want the responsibility of dealing with a few little ones placed throughout your home. Generally, you will probably be better off with a mesh Wi-Fi system than with a conventional router. It is ultimately up to you to decide whether or not you are prepared to make the switch to one of the best mesh Wi-Fi routers, which may be an excellent upgrade to your existing Wi-Fi signal.
How far can Mesh Wi-Fi reach?
Mesh routers generally have better coverage when compared with conventional routers. It can provide coverage for up to a range of 2000 to 5500 square feet.
Recommended Reads: